When the production of 100 tons
Crushing material: limestone, bluestone, gypsum and other stone
Application: stone factory, quarry
Small sand and gravel production line: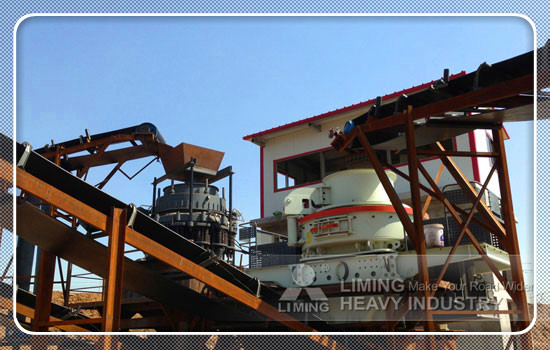 PEW Jaw crusher, small vsi6x series sand making  machine and other equipment needs to increase, many owners build sandstone line, hoping to invest less, fast income. More choice to build 100 tons – 150 tons of small sand making production line.
Heavy hammer crusher + small counter-breaking stone production line equipment selection, which, heavy hammer crusher is based on the impact of crusher improved design of new stone crushing equipment, mainly in the rotor hanging heavy hammer, relying on the rotor Driven by heavy hammer crushing, no grate plate design to crusher larger capacity, and the price is also more than a grate plate design hammer crusher to be much cheaper.
The impact crusher has many advantages, such as larger capacity, high efficiency, many of the 100 tons of sand and gravel production line owners have chosen from the heyday to buy counterattack crusher, especially the stone against the break, the production of sand and gravel than the ordinary counter-break Produced by the high price of 2-3 yuan.
There are some production of 100 tons of small sand and gravel production line selection jaw crusher + impact crusher production line equipment configuration, which commonly used PE600 * 900 jaw crusher, commonly known as 69 broken, which is the most common small knock stone machine , Stand-alone production capacity between 50-120 tons per hour.