600-700 tons per hour granite, basalt crushing production line introduction:
When producing 600-700 tons of granite, basalt crushing equipment, stone blasting from the mountains down into the feeder by dump truck will be less than 1020mm of stone, the stone vibrating feeder evenly into the jaw crusher, jaw stone crusher to be crushed first paragraph, stone by broken jaw crushed in 150mm – 300mm or so, by vibrating feeder material into efficient hydraulic cone crusher for second paragraph broken, crushed material passes round vibration sieve screening, more than 40mm material return to the cone crusher broken, 40mm or less material from the belt conveyor into the shaping machine shaping. After shaping been finished by the circular vibration sieve screening, transported by belt conveyor to the finished product area.
Note: When the feed is less than equal to 320mm, the material directly into the cone crusher broken, not in front of the first paragraph break.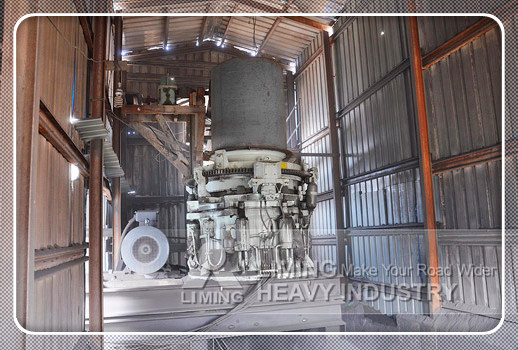 Granite, basalt crushing production line equipment and configuration checklist:
Feeder GZD1500 × 6000 1 station
Jaw crusher PE-1200 × 1500 1 station
Feeder GZD1300 × 4900 2 units
Efficiency Hydraulic Cone Crusher HPC400 2 sets
Circular vibrating screen 2YZS2460 2 units
5X1145 2 sets of plastic machine
Circular vibrating screen 3YZS2160 4 sets
If you have any needs, please contact us, we will reply to you within 24 hours!