The mobile crusher plant is mainly used in the material processing of metallurgy, chemical industry, building material, water & electric, etc. which needs moving constantly, especially the moving task of aggregated rock in highway, railway, water & electric engineering, etc.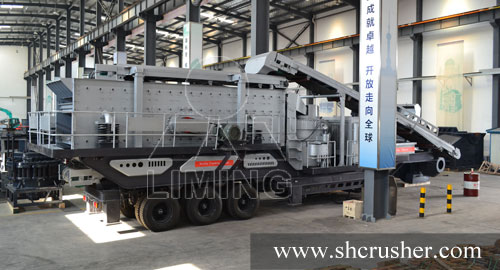 According to the kinds of materials that the customers want to process and the different requirement of scale and finished products' material, various equipments are accepted.
Usually the mobile crusher plant can be divided into crawler hydraulic drive mobile crusher plant & tire mobile crusher plant. The crawler hydraulic drive crusher mobile plant can be divided into standard type, closed circuit type, combination of one machine and secondary combination, while the tire mobile crusher plant can be divided into standard type, closed circuit type, one single combination and secondary combination according to customers' different requirement.
The brief introduction:
PP Series mobile crusher plant has the characteristic of flexible & convenience, high maneuverability, low cost of capital construction & moving, etc. The PP Series mobile crusher can crush the material in site and move along with the surface of material, which save a lot of delivering cost.
The mobile crusher screen is divided into primary crusher screen plant, secondary crusher screen plant, belt conveyor, etc. Each crusher plant is a independent working unit and can accomplish its different work, with the delivering and piling of the belt conveyor among the crusher plants.