The most rational configuration is choosing jaw crusher for coarse crushing, cone crusher for medium crushing (small production can use fine jaw crusher), VSI crusher for tertiary crushing in the river pebble sand making plant at present. So, why not choose impact crusher as medium crushing, hammer crusher as sand making machine?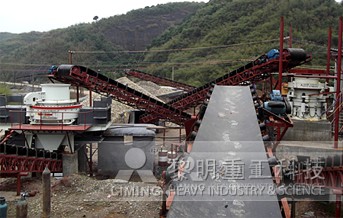 This is due to the structure and working principle of the products. Impact crusher and hammer crusher all adopt beat style crushing, due to the high hardness and silicon content of river gravel, it will make more serious on abrasion of plate hammer and hammer. The hammerhead and  board hammer are usually replaced. So the long time of replacement parts and inefficient production, it will affect the overall yield and economic benefits.
Therefore, we adopt the jaw crusher + cone crusher +5 X sand making machine. Cone crusher is extrusion crushing, 5 X sand making machine adopt "stone hit stone" principle, the wear parts have long service life, the machines have short maintenance time, it greatly improve the life cycle of the equipment to ensure a higher yield. It can be widely used in highway, hydroelectric dams, airport construction, concrete mixing stations and other areas.