Mobile Crusher Parts is various according to it's main crusher components. For example, mobile jaw crusher components consists 1, vibrating feeder, 2, motor of feeder 3, hopper of feeder 4, jaw crusher 5, motor of jaw crusher 6, standard belt conveyor 7, extended belt conveyor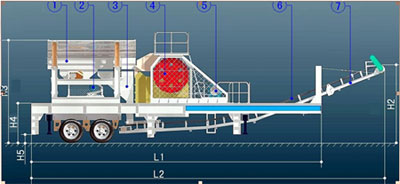 So, mobile jaw crusher parts include vibrating feeder spare, motor spare, hopper spare, jaw crusher spare,belt conveyor spare and so on.
Global Mobile Jaw Crusher Brands Supported
Altairac, Baxter, Bergeaud, Blaw Knox, BL-Pegson, Brown Lennox, CFBK, Extec, Faco, Finlay, Fintec, Hart'l, Hewitt Robins, HRI, Goodwin Barsby, Kemco, Kleeman Reiner, Kobelco, Komatsu, Kue Ken, Lokomo, Minyu, Officine Mechaniche OM, Parker, Pegson, Pegson-Telsmith, Powerscreen-Pegson, Terex-Finlay, Terex-Pegson, Telsmith, Liming, Sheepbridge, Svedala  etc.
Global mobile crusher spares case range
Liming Heavy Industry (Shanghai) mobile jaw crusher spares part is well sold and known by world wide local crusher agent and many exporter & importer.In Russia, Ukraine, Moldova, Kazakhstan, Kyrgyzstan, Tajikistan, Uzbekistan, Turkmenistan, Armenia, Georgia, Azerbaijan, Mongolia, Iran, Jordan, Qatar, Libya, Angola, Zambia, Mozambique, Brazil, Chile, etc.