Primary crushing mode for manufactured sand
If using a traditional hammer crusher as the major equipment to process mechanisms sand, it is adopting primary crushing, so the accessories have the greatest wear and the service lift is the shortest.  If replacing the accessories of hammer crusher, it needs to take a long time, and maintenance steps are short, so it needs high production input cost.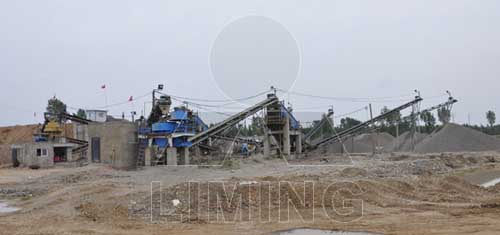 Secondary crushing mode for manufactured sand
If increasing jaw crusher with fine crushing function to primary crushing, and then re-entering hammer crusher, it can reduce the wear degree of accessories, and extend the service life. But when crushing harder rock, such as limestone and granite, the accessories also has greater wear. So it can not reduce be maximized to reduce the production input cost.
Tertiary crushing mode for manufactured sand
Therefore, our company recommended using tertiary crushing mode: jaw crusher with coarse crushing function, cone crusher with medium crushing function, VSI5X sand making machine (vertical shaft impact crusher) with fine crushing function. So, all accessories of the full set of equipments have longer service life, the repair rate is significantly lower, maintenance is convenient. At the same time saving production time, it effectively reduce production costs and improve profit margins.