In cement process plant, the characteristics of raw materials required for the cement production differ at a wide range. The limestone deposits used today as base material, show very different properties regarding hardness, abrasiveness and stickiness. To optimize the crushing process as well as the investment and operating costs, we should select suitable crushing equipments.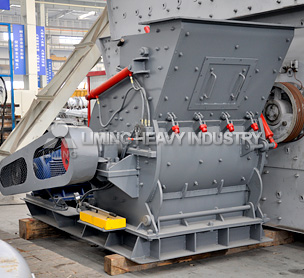 European version hammer crusher is an ideal crusher used in cement crushing plant. It is popular with people because it changes multi-stage crushing into single-stage crusher, which can save a lot of time and cost. You must want to know more about the use of European version hammer crusher through the technological process: vibrating feeder—– European version hammer crusher —–circular vibrating screen—-finished products as the customer requirement.
European version hammers crusher can process the raw material like limestone, siltstone, shale, gypsum, coal, coal gangue. As the cement plant manufacturer with numbers of branches in the world, we supply enough kinds of cement crushers for choosing: jaw crusher, cone crusher, impact crusher, VSI crusher and mobile cement crushing plant.