At present, it has a higher requirement for stone aggregate quality in basalt (diabase, river pebbles) production line, railway, highway, hydropower station and so on, especially the content of needle flake in basalt (diabase, river pebbles). Traditional cone crushers or impact crushers have not met the ore fine crushing requirement.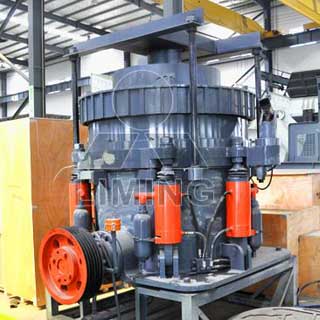 In order to solve ore fine crushing problem, we have introduced the newest crushing and screening process, and they are hydraulic cone crusher and VSI sand making machine which can meet various technical requirements for fine crushing and shaping. Hydraulic cone crushers is the necessary equipment that processing high-performance concrete (more than C40) and high-quality stone. After using this process to crushing and shaping, aggregate needle flake is less than 5%, which can fully meet high-performance concrete (C40 ~ C80) technical requirements.
Liming Heavy Industry (Shanghai) hydraulic cone crushers include single cylinder hydraulic cone crusher and multi-cylinder hydraulic cone crusher. In addition, we supply completestone aggregate production line process equipment: Vibrating Feeder, Jaw Crusher, Hydraulic Cone Crusher, Vibrating Screen, VSI sand making machine (stone shaping machine).