Gravel white sand production line  is composed of vibrating feeder, jaw crusher, impact crusher or cone crusher,vibrating screen and vertical shaft impact crusher ect. Supported by the belt conveyor it is a whole processing line for gravel producing. Various kinds of materials can be used for aggregate and manufactured sand such as hard limestone, granite, basalt, river gravel and metallurgical slag ect.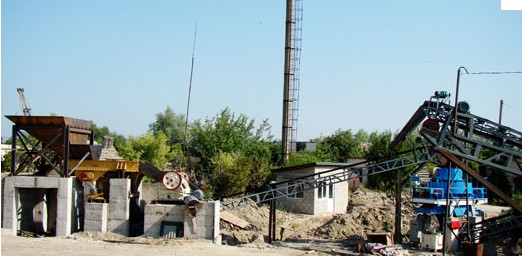 The raw material is transferred to jaw crusher for primary crushing by vibrating feeder, then the crushed materials are transferred to sand-making machine through belt conveyor for secondary crushing. The materials crushed will be transferred to the vibrating screen. The materials with suitable size will be transferred to sand washing machine, after being washed, then clean final products will be discharged. The others with unsuitable size will be screened from vibrating screen, and then will be transferred to the sand-making machine, which forms a closed circuit manifold cycles. Sizes of final products will be according to our customers' requirements. If it is the dry process, the classifier and dedust equipment will be attached according to you requirement.
Our gravel white sand production line  is specially designed for producing building sand and aggregated rocks. Compared with traditional sand making machine, it saves 50% energy. Our sand and gravel production line can be used for crushing rocks, sandrocks, and cobble. The sands are of equal size and has high compressive strength, quite suitable for use in construction.