Impact crusher is a new type of high efficiency crushing equipments for stone, rocks, coal, limestone and other ores etc. Impact crusher design features small volume, simple structure, big crushing ratio, energy consumption, high production capacity and less granularity etc.
Impact Crusher is made up of first stage impact curtain with anvils,impact curtain adjusting rods, second stage impact curtain with anvils, rotor, blow bar ,wedge lock assembly, back-up bar, discharge opening, third stage impact plate and so on.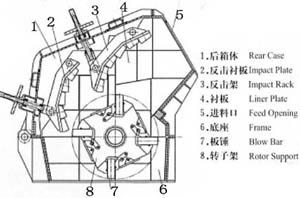 Impact crusher working flow: When the stone or rock materials enter the blow bar area, they are crushed due to the high-speed impact of the blow bar and are thrown to the impact plates on the rotor for secondary crush. Then the crushed stone and rock materials will be shot back to the blow bar again for the third crushing process. This process repeats until the materials are crushed to the required size and discharged from the lower part of the impact crusher machine. The size and shape of the finished powder can be changed by adjusting the gap between the impact rack and rotor support. The machine employs self-weigh securty device in impact crusher's back frame. When other objects enter the impact cavity, they will be forced out of the machine by the impact rack in the front and back of the impact crusher equipment.
Impact crusher is widely used in stone crushing plant and sand making production line for construction building materials. It can crush big stones or rocks such as quartz, basalt, shaly, kaolin, limestone, marble etc into small size for building aggregates or manufactured sand.