Integrated gold ore processing machinery is widely used in gold ore crushing and grinding process to resize and pulverize gold ores into 10mm to smaller than 1mm particles. As gold ore's VHN hardness is between 60 and 105, we can design gold ore crushing plant and grinding machine that can process gold ore.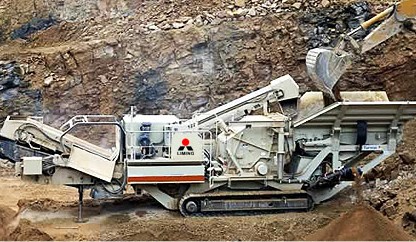 Integrated gold ore process machinery
Gold ore crusher can process gold ore with dimension as wide as 200mm and the outsize is smaller than 10mm. According to the crushing stage, our gold ore crushers are divided into three kinds: jaw crusher, impact crusher, cone crusher, mobile crusher etc.
Gold ore grinding mill is capable of handling feed sizes up to 6 mm and grinding to products less than 20 microns, and has standard mill sizes ranging from 15HP (11kW) to 3000HP (2240 kW). Our gold mill includes Raymond mill, ball mill, coarse powder mill, high pressure mill and vertical mill, etc.
Gold ore vibrating screen works during the whole gold ore processing flow from crushing, grinding to concentration process. It is featured with simple structure, long service time, high screening ratio and high efficiency.
Integrated gold ore process machinery  company
Liming Heavy Industry is a leading and large gold ore processing machinery manufacturer, and supply crusher, mill, vibrating screen, vibrating feed, sand washing machine etc. We can design specific gold ore process plant according to customers' requirement. So know more information, please feel free to contact us!