Iron is the world's most commonly used metal – steel, of which iron ore is the key ingredient, represents almost 95% of all metal used per year. Iron ores are rocks and minerals from which metallic iron can be economically extracted. It is used primarily in structural engineering applications and in maritime purposes, automobiles, and general industrial applications (machinery). Iron-rich rocks are common worldwide, but ore-grade commercial mining operations are dominated by the countries listed in the table aside.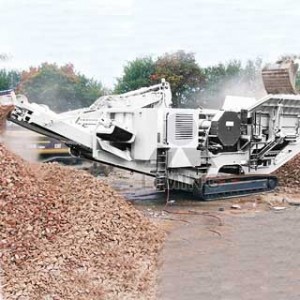 iron ore crushing
When working, material can directly into the crusher to the ideal size, circular vibrating screen can screen out products with different specifications of stone materials, and belt conveyer output stacking or transport.
Mobile Crusher for crushing iron ore
In iron ore crushing plant, Mobile jaw crusher is often to be selected, in medium crushing process, users usually use mobile impact crusher, and in the fine crushing, short-head type mobile cone crusher is suitable. Mobile crusher has many advantages, such as:
Integrated machine set with the impact crusher series mobile crusher;This mobile impact crusher is designed to be of high flexibility;Lower transportation cost our customs will pay; High efficiency; The mobile impact crusher is easy to adjust and to collocate; Reliable performance and convenient maintenance.
Liming Industry Heavy mobile crusher can be divided into Wheel-mounted Mobile Crusher and Track-mounted Crusher, such as Tracked Cone Crusher, Tracked Jaw Crusher,Tracked Impact Crusher, Wheeled Impact Crusher, Wheeled Jaw Crusher etc. Customers can select the right mobile crusher according to own requirements. If you are interested our products, you can contact us, we will sevice you sincerely.