As we all know, the Calcium carbonate powder play an important role in the construction industry, With the development of the construction industry, grinding the limestone into Calcium carbonate powder is more and more in urgent need.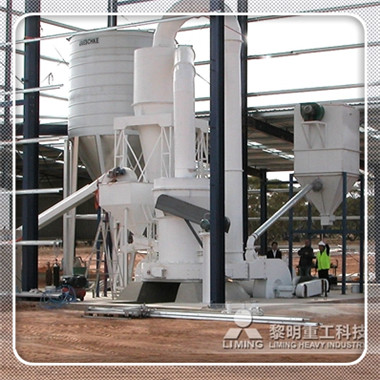 Liming Heavy industry manufactured the LM series vertical mill which is
One of our patent advanced mill, it adopt top technology domestic and abroad, and based on many years' mill experiences. This grinding mill is a kind of advanced grinding mill whose crushing capacity is from 10tph to 128tph, its max input size from 0-55mm,and the max output size is from 80-325mesh,the size of the finished production can adjust according your need. it adopt high automatic control,and the its grinding technology has up to the world-level, This series grinding mill has arrived the top technical level in the world which is better than the Ramond mill.
The customers' production line are mainly consist of the hopper, LM series vertical mill, bag filter, cyclone, fan, electric control box and so on, the whole production line can be controlled, the final product over 95% passed 200 mesh.
LM series vertical mill has the absolutely advantages in the grinding the limestone processing plant:
1.Low Investment Cost
2.Low Operation Cost
High efficiency,Less wear and tear
4.High Drying Ability
5.Simple and reliable operation
6.stability of product quality
This production line got the praise of customers in Australia.
we also can design for you the whole production line anywhere you want to invest mining industry in Australia.