Bentonite is of a great commercial importance possessing inherent bleaching properties like fuller's earth, hence, it is known as bleaching clay. Bentonite is essentially highly plastic clay containing not less than 85% clay mineral, montmorillonite. For industrial purposes, two main classes of bentonite exist: sodium and calcium bentonite.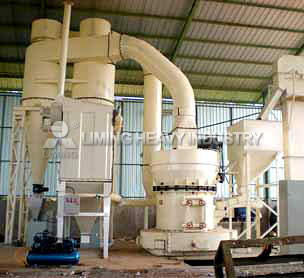 bentonite powder pulverising mill machine
Grinding is an integral stage in bentonite production process and requires the most energy of all the mineral processing stages. The common bentonite powder pulverising mill include: Raymond mill, vertical mill, ball mill, hammer mill etc.
Raymond mill is usually used for bentonite Grinding. Usually the Raymond mill with 4R or 5R is chosen as bentonite Grinding mill. The final size can be up to 200 mesh.
T130X superfine grinding mill is a new innovative bentonite grinding machine. It is based on our experienced grinding mill experts' market analysts, as well as the analysis of feedbacks and suggestions of customers both from domestic and foreign.
LM series vertical mill is a kind of perfect bentonite grinding equipment, is a combination of crushing, drying, grinding, and classifying. The designation and the development is based on our years of ripe mill experience, and the adopting of advanced technology both from domestic and foreign.
Liming is a professional mining equipment manufacturer, and supply all kinds of bentonite powder processing equipments, such as bentonite crusher, bentonite mill, vibrating screen, vibrating feeder, belt converor, etc. We can design complete production line according to customers needs, and provide free technological support, training, etc.