Mobile crusher's significant advantage
Mobile crusher's significant advantage is of small size and approaching to the site directly and put into production anytime. Because the mobile crusher is building on the surface of earth, it can be widely used in different production of mining projects.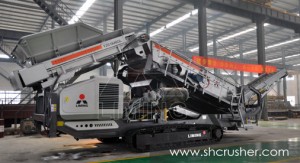 Mobile crusher plant's importing eliminates the complex steel structure and basic building, which save a lot of time. Mobile crusher can select the destination directly and go to your sites without transportation, reaching the size of finished product. Especially for a small site, it is suitable for handling with the construction waste and crushing the construction waste. Simultaneously, it lowers the investment cost as well as increases the profit.
The capacity of mobile crusher:
a. It is not only used for crushing the wasted bituminous concrete and construction waste, but also can crush the ore and rocks with pressure-resistant of 300MPa with widely use.
b. Capacity of 100 ton per hour.
c. The longest of feeder is 700 mm.
d. The crushing unit is impact crusher with 2 or 4 breakers.
e. The power unit is Duets AG diesel engine.
f. The operation manner is on-ship control using wireless control or wired remote control.
g. Multifunction of coarse crushing and grinding.
h. Vibration automatic feeding system.
i. Rule of remote control the hydraulic pressure fault grinding machine.
j. Controlled AG overload.
k. Mobile crusher's water sprays system of dust.
l. Crusher's magnetic selecting machine separates the metal in concrete.
m. The generator set satisfies the remote area.
n. Compact structure with well influence (19-23ton), the largest transportation size: 8200 mm long, 2460 mm wide, 2950 mm high, this can be used by the wireless remote to move the flat bet truck up and down as well as the easy overload of trailer.
Liming tire type mobile crusher is the original rock and stone crushing equipment, which expand the concept area of coarse and fine crushing. This design concept concentrates on the customer's site, taking eliminating the obstacle which is led by the crushing site, environment and complex basic foundation as the first solving solution. Genuinely take a simple, efficiency, low cost project running hardware equipment.