Mobile rock crusher in open pit mine with fully mobile crushing system replaces completely truck haulage. The fully mobile rock crusher follows continuously the face and the shovel or excavator. After drilling and blasting the rock is loaded by shovels or excavators into the hopper of the fully mobile crusher. From the crusher the material is transferred either by a loading (conveyor) bridge or by a belt wagon onto the shiftable face conveyor. Up to three mobile crushers can operate in multi benches and load onto one face conveyor. High availability is ensured when the systems operates in several passes before the face conveyor needs relocation by so called track shifting. A series of conveyors take the rock either to the plant or to the spreader at the dump area .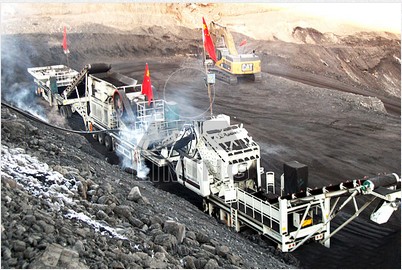 The annual capacity of a mine operation with mobile rock crusher is mainly determined by the efficiency of the shovel resp. excavator and the fully mobile crusher operating at the face . High efficiency is enabled when the shovel can operate preferable within small swing angles and the fully mobile crusher continuously follows the face advance.
The main components of a fully mobile rock crushing systems are the hopper with apron feeder, the roller crusher (sizer or hybrid crusher) and the crawler track. Most fabricators consider a discharge boom for transferring onto a belt wagon.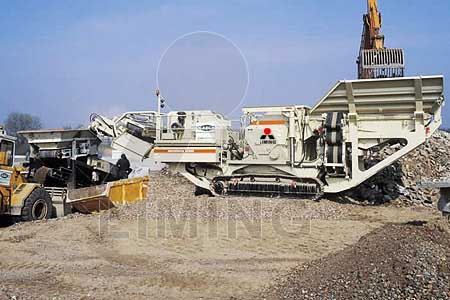 A two crawler track arrangement enables only a small support area. The heavy impact from the unloading of the shovel causes machine vibrations and vertical exitement of the discharge boom. Lifetime of equipment might suffer due to permantent vibrations . Some fabricators provide a temporary support at the hopper. The lifting of this support at nearly empty hopper reduces the mobility and lead to additional down time for relocation.
We developed a new type of fully mobile crusher,which avoids the disadvantages of pervious designs. It has two crawlers mounted underneath the hopper and a pair of slewable crawlers underneath the crawler. It has no inbuilt discharge conveyor; the material is either directly loaded from the crusher onto a self propelled conveyor bridge or could be transferred onto a belt wagon. This new concept enables a very stabile and full mobile operation .