The gyratory cone crusher is the tertiary crusher in the crushing sequence. It crushes secondary crushed and retained material from a 25mm screen of approximate size 45mm – 25mm through the use of an eccentric rotation. The rotation occurs only at the bottom of the main shaft. A 150KW electric motor creates the drive to the eccentric assembly through multiple drive V belts.
The Omnicone is different; however still a gyratory crusher, to the Jaques gyratory cone crusher.The Omnicone main shaft assembly is not supported at the top its shaft. The main shaft is driven and supported through the eccentric assembly. The eccentric assembly turns at a constant speed, causing the entire main shaft to gyrate. The process is continuous.
Gyratory cone crusher principles apply to the Omnicone; see 900mm Jaques
gyratory cone crusher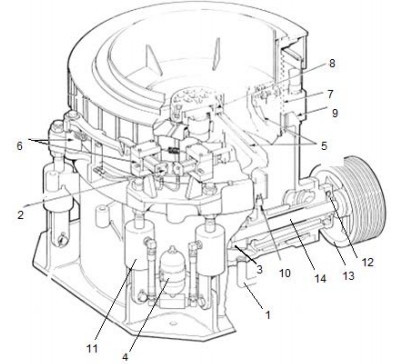 1 Oil return line
2 Adjustment cylinders
3 Pinion and crown wheel gears
4 Tramp cylinder accumulators
5 Mantle and concave wear liners
6 Concave adjustment locking mechanism
7 Adjustment thread
8 Head nut cover
9 Top shell locking surface
10 Dust seal
11 Tramp cylinders
12 Pinion seal
13 Multi V belt pulley
14 Pinion shaft
As a tertiary crusher, the Omnicone uses a tertiary mantle and concave which uses a more blunt profile mantle and concave than a secondary crusher mantle and concave wear liner shape profile. The tertiary mantle and concave shape limits the input size of material. As a tertiary crusher it also operates with a CSS of approximately 15 – 18mm. Due to the tighter CSS and the tertiary profile the material thro put, that amount of processed material is lower than the secondary crusher.