Hammer mill is also called hammer crusher, and is a common grinding and crushing equipment in cement industries. Hammer crusher mainly consist of frame, rotor, hammers and grizzly bars and other components.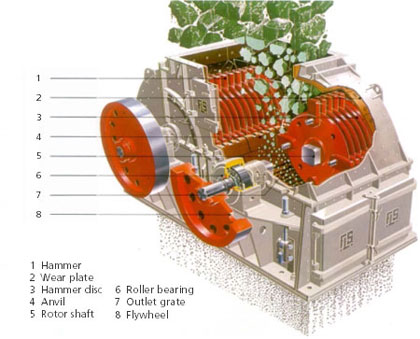 Operational principles of hammer mill
The grinding action of the hammer mill is caused by acombination of impact from the high tip speed of the free swinging hammers on theproduct, particle to particle impact and the cutting edgeof the screens and breakerbars.
The product enters at the topcentre of the machine and fallsinto the grinding area. The centre feed distributes the product across the full width of the screen area giving even hammer wear. Initially theproduct is impacted by thehammer and is then immediately conveyed to the area between the hammer tips and the screen by acombination of hammer impact, air flow and centrifugal force. In this zone the final grinding action is achieved and the ground product exits through the apertures in the screen.
The fast rotation of the hammers also creates a fan effect within the machinea nd air is drawn in through the inlet with the in coming material and exits throughthe screen.
We are a leading manufacturer of crushing and screening equipments in China. With modern processing and manufacturing capacity and a top-ranking R&D team consisted of professional engineers, Hammer Mills, designed by our professional experience for many years, has achieved advanced world standard and is widely used in gypsum board, cement, chemicals and other industries.