Portable stone crushers on tractor made in Liming Heavy Industry (Shanghai) is applied to multistage crush large materials, and then screen the discharges according to their different specifications. The whole set plants is widely used in mine, building material, highway, rail way and hydropower industries, etc., finish crushing and screening operations at one time, produce required size and output for consumers.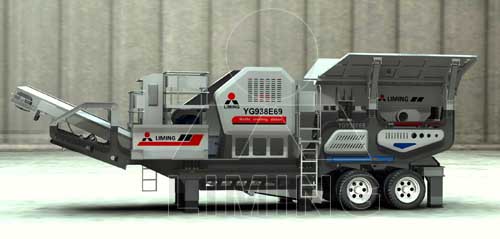 The portable stone crushing plants is composed of primary crushing and secondary crushing station, belt conveyor, vibrating feeder, vibrating screen, etc. Every crushing station is an independent working unit, they can respectively assume their different responsibility, and the belt conveyer is responsible for material transmitting and piling up between each crushing station.
Our portable stone crushers on tractor has many kinds, portable jaw cruser(YG938E69,YG1142E710,YG1349E912,YG1349EW86, YG1349EW110), portable cone crusher(Y3S1848CS75, Y3S1860CS160, Y3S216HP220, Y3S1860HP220), portable impact crusher(YG1142 F1214,YG1142 F315,YG938 F1210,etc). And these products have exported in many countries, such as imbabwe, Malawi, Botswana, Namibia, South Africa, Argentina, Bahamas, Bolivia, Brazil, Canada, Columbia, Chile, Cuba, Venezuela, Ecuador, Guatemala,  Haiti, Mexico, Peru, Uruguay, Paraguay, Surinam, Australia, Russia and so on.