Raymond roller mills are available with grinding ring diameters ranging from 30 inches to 86 inches (760 to 2180mm). Typical production rates are shown in the table above. These available sizes are capable of producing a wide range of product finenesses from a wide variety of materials.
Practically all naturally occurring nonmetallic minerals and many manufactured products contain a certain amount of free moisture. At one time it was necessary to dry these products in an independent system. The technique used by Raymond combines drying and pulverizing in the roller mill. This may make it possible to eliminate independent drying equipment reducing capital investmet, processing time and handling.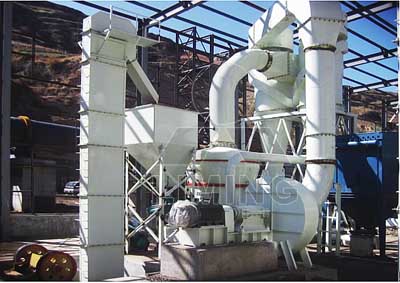 Heated air or waste gas is delivered to the Raymond Mill return air housing and introduced
through air ports to the grinding zone in the mill. The air turbulence and particle size produced during the grinding process are ideal for almost instantaneous evaporation of moisture.
Feed moisture is normally limited to what can be reliably fed into the mill. Typical product moistures are 0.1 to 0.5% by weight.
Raymond offers the following to compliment the roller mill system:
• pilot plant material testing
• premium wear parts
• PLC-based control systems
• field service support
We are one of the world's leading manufacturers of grinding mill machines the processing industry. Based on decades of experience, our research and development work has become an integral part of our processing equipment. Customers all over the world benefit from our innovative power. If you want to know more information about our products, please contact us!