VSI5X Series sand making machine, a highly functioned equipment for rock sand making and shaping, is researched and produced by our corporation, absorbing advanced Germany technology and owned advanced world standards. Its performances play an irreplaceable part in various ore fine crushing equipments. The series of products combine two crushing models together and can continuously operate for 720 hours without stop. They have replaced traditional equipment such as hammer crusher, rod crushing mill and pin crusher and become the newest main equipments in sand making industries. It has two types:rock-on-rock and rock-on-iron. Rock-on-rock type is used to crush high abrasive materials while rock-on-iron is suitable for low abrasive materials. The sand production rate of rock-on-rock is 10-20% higher than that of rock-on-iron.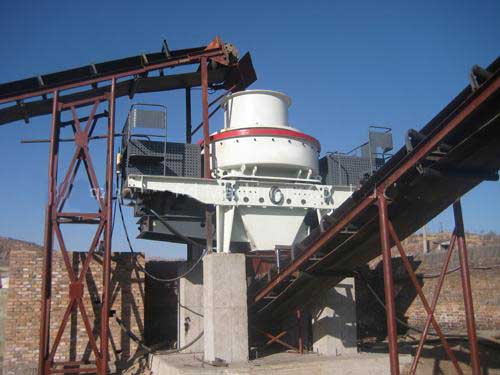 Working Principle of rock Sand Making Machine
Rock less than 50mm enters sand making machine through conveyor belt. Rock is crushed by hitting other stones. Material falls down to impellor cavity. Under great centrifugal force, it hits material that coming downwards. After hitting each other, they force a vortex between impellor and shell, and hit each other several times. Finally, smaller stone comes out and goes to vibrating screen. Satisfactory material is transported to sand washing machine. Overlarge material will go back to sand maker to be crushed again. Output sizes can be made according to customers' requirement. If input size is larger than the designed size, other crushing equipment will be necessary.
Rock sand making plant consists of vibrating feeder, jaw crusher, sand making machine, vibrating screen, sand washing machine, belt conveyor and centrally electric controlling system, etc. The designed capacity is from 50t/h to 500t/h. After many years' research, our company has developed an internationally advanced rock sand making machine, which can be used together with other machinery as a complete sand making flow. This design racks a leading role in the same industry.