Sandvik Mining is a business area within the Sandvik Group and a leading global supplier of equipment and tools, service and technical solutions for the mining industry. The offering covers exploration, rock drilling, rock cutting, rock crushing, loading and hauling and materials handling.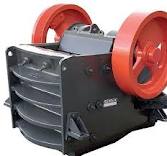 Sandvik primary jaw crusher is a single toggle jaw crusher, characterized by attention to detail, in both design and manufacture. We have incorporated the best of the old and applied the benefits of the latest technology.
The frame consists of two side plates of rolled steel, plus hollow castings at front frame end and moving jaw which give a high rigidity/weight ratio. Large-radius transition areas reduce stress concentrations and welds are positioned in low-stress areas.
The advantage of a welded frame is that it is equally strong in all directions and ensures excellent durability against shock-loads. Thus minimizing the risk of failure on the main-frame, as with a bolted construction.
It is not just a large nominal feed opening that is necessary –the feed acceptance capability depends on a feed opening which is effective and active (see illustration). All crushers in the range have an almost square feed opening so that they can accept the largest material lumps without blockages.