The comminution of rock materials into gradually more fine grained particle sizes by means of different kinds of crushing is the key process in the making of manufactured aggregates. And the adaptation of the crushing process to the actual rock type and to the intended enduse is crucial for the final result to be achieved.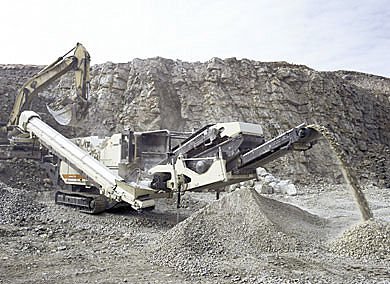 This implies the choice of crushers and their combinations, the number of crushing stages, the feeding, gap setting and operation of the individual crushers and, of course, the maintenance. It is important to realise that a good final result depends on each crusher stage being optimised – it is not a good approach to try to repair an insignificantly crushed product by the final crusher stage alone.
A normal aggregate crushing plant set-up will have a primary crusher (usually a jaw or a large gyratory), one or two secondary crushers which will in most cases be cone crushers, in large quarries even a tertiary cone stage may be used. And then as a final (third or fourth) stage for making cubical fine grained particles, a VSI has often been the solution.
The reduction ratio (RR) is a key figure, indicating the ratio between in-going and out-going size. For cubical particle shape a low RR will be the target, as the lowest flakiness will always be obtained at particle size close to the crusher setting. This could however implement a high number of crusher stages, with consequences for economy as well as for the amount of fines produced.