Universal Jaw crusher is a popular processing and sampling equipment for the mineral and aggregate industries. Today, we have an expanded product line that includes a full range of rock crushers, and also supply an extensive range of parts to suit the jaw crushers.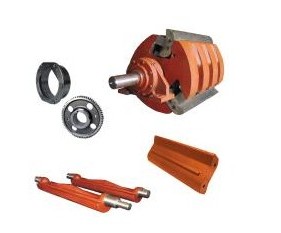 We offer  movable jaw, stationary jaw in 14% and 18% grades of manganese with chrome ranging from 2% to 3% and guarantee the performance of every casting, all parts will meet or exceed the most demanding quality standards to insure absolute customer satisfaction. We will replace or make adjustments for defects in chemical or physical specifications dimensional accuracy and physical performance.
We also supply other spare parts, such as impact crusher parts, cone crusher parts, VSI crusher parts etc.. Our parts specialists are dedicated to providing our customers with prompt, efficient service and high quality parts to reduce downtime.  Efficient inventory controls assure competitive prices and quality parts to keep equipment and plants running.