CS Series shorthead cone crushers of Liming are the best available choice for the aggregate and mining market. It features a unique combination of crusher speed, throw and cavity design.
CS Series shorthead cone crusher is ideal for:
Secondary and tertiary crushing for feeding grinding mills and leach pads
Critical-size material crushing to achieve optimum autogenous or semi-autogenous mill productivity
Special secondary crushing for high reduction ratio applications
Autogenous or Semi-Autogenous pre-crushing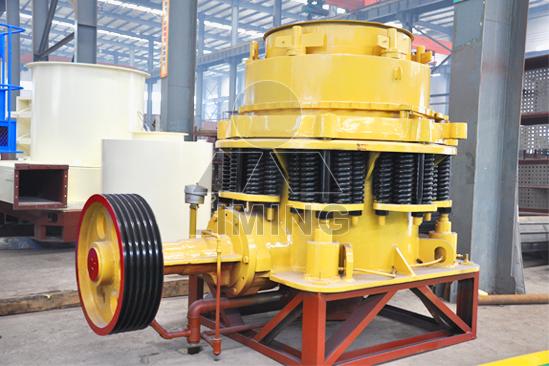 CS Series shorthead cone crusher manufacturer
Liming is a leading and large crushing equipment manufacturer in China, and supply all kinds of crushers, such as jaw crusher, cone crusher, impact crusher etc. Our products all have excellent performance, and have successfully exported to 100 countries. CS Series shorthead cone crushers have 3 footer, 4 footer, 5 footer, 7 footer.With field-proven technology in demanding mining operations, the CS Series cone crushers process more ore than any competitive unit at the same reduction ratio or product size.
Specification of shorthead CS cone crusher
Model
Dia. mm (feet)
Cavity
Feed Opening
Outlet Setting (mm)
Shaft Speed (r/min)
Power (kw)
Capacity (t/hour)
Weight (t)
Dimension (mm)
Closing Side (mm)
Open Side (mm)
CSD75
914 (3′)
Fine
13
41
3-13
580
75
27-90
15
2821×1880×2410
Coarse
33
60
3-16
27-100
CSD160
1295 (4 1/4′)
Fine
29
64
3-16
485
160
36-163
27
2800×2342×2668
Medium
54
89
6-16
82-163
Coarse
70
105
10-25
109-227
CSD240
1676 (5 1/2′)
Fine
35
70
5-13
485
240
90-209
55
3917×2870×3771
Medium
54
89
6-19
136-281
Coarse
98
133
10-25
190-336
CSD315
2134 (7′)
Fine
51
105
5-16
435
315
190-408
110
4130×3251×4454
Medium
95
133
10-19
354-508
Coarse
127
178
13-25
454-599