Construction sand and gravel are typically mined in a moist or wet condition by open pit excavation or by dredging. Open pit excavation is carried out with power shovels, drag lines, front-end loaders, and bucket wheel excavators. The processing of sand and gravel for a specific market involves the use of different combinations of washers, screens, and classifiers to segregate particle sizes; crushers to reduce oversized material; and storage and loading facilities.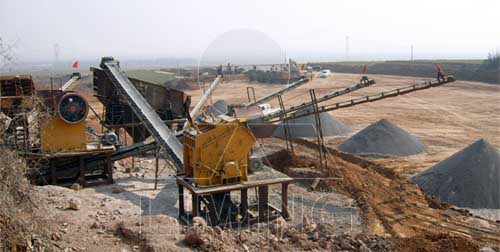 Processing sand and gravel to produce high quality construction materials is an area in which we has special expertise. The planning & design and realisation of the processing plant take place according to the customer's individual wishes under the aspect of optimum economic efficiency.
The simplified flow chart of asand and gravel processing plant is: vibrating feeder ->jaw crusher -> Impact crusher (or cone crusher, VSI crusher) -> VSI crusher -> vibrating screen -> stockpile.
The final grain sizes of artificial sand making are: 0-2mm, 2-4mm.
As a professional sand and gravel production line supplier, we can supply compete set of production line equpments with reliable performance, easy operation, high efficiency to the clients. According to the application, we design the provedsand and gravel processing plant  of 40-80 TPH, 80-120 TPH, 120- 200TPH, 200-300TPH, 300-450TPH, 450-600TPH  for the contractors and clients.