jaw coal crusher
Jaw coal crusher has a higher requirement for wear resistant device with high wear-resistant manganese steel scale board. When coal jaw crusher is working, there are two manganese steel jaw boards in crushing cavity, which one is fixed calling fixed jaw board, the other is moving all the time calling movable jaw. The fixed jaw is extruding to the outside fixing on the front of crushing cavity chamber wall. The movable jaw board is also called jaw tongue, which is slant and forming a trapezium working crushing area with fixed board.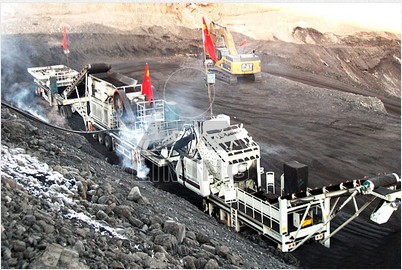 The movable jaw board has a extruding and twisting function movement repeatedly on fixed jaw board. When the two jaw boards are separate, the material is entering the crushing cavity immediately while the finished product is ejecting from the bottom outlet hole. When the jaw boards are closed together, the material which has entered into the crushing cavity will have a function of extruding, twisting and crushing of two jaw boards. This moving of separating and closing can realize the whole process of material crushing.
impact coal crusher
Coal impact crusher working principle: when the machine is starting driven by electrical motor, rotor has a high speed rotating, and then material is feed into crushing cavity, plate hammer on rotor strikes material for crushing for the first time. Finally, the material is strike back on scale board for the secondary crushing with material ejecting from outlet, which is the finished product. Ore separating beneficiation plant and sand stone plant use jaw crusher in production. Compared with other crushers, impact coal crusher has advantage of low cost and high efficient.
Impact coal crusher can crush all kinds of crude, medium and fine material with size under 500mm and compression strength under 350MPa, widely used in express highway, artificial sand and stone material, crushing industry, etc.
Our products have been exported to many countries, such asIndia , Pakistan ,Philippines , Brasil , Romania , Egypt ,South Africa , Malaysia ,Lebanon , Vanuatu , Mongolia ,Oman , Kazakhstan , Uzbekistan ,Uruguay , Mexico , Vietnam , Nigeria , Kenya  etc. If you want to know more about our products, please contact us by online service customer, we will help you seleclt the most suitable equipments.