The portable crushed sand making equipment is spearheaded by the LIMING series of vertical shaft impact crushers (VSI's). The machine is available with a range of rotor and crushing chamber options. This unit forms the basis of the world's first production track mounted VSI. It  is widely used in road and bridge construction, city construction, metallurgy, energy and other departments to implement crushing and screening.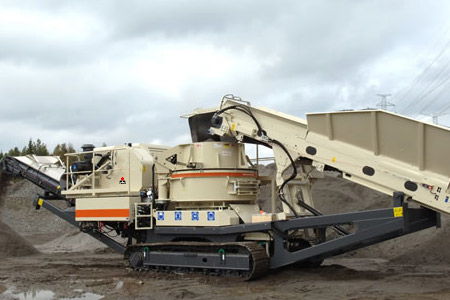 Portable crushed sand making equipments features:
1. High output and wide utilization ratio: compared with traditonal machinery under same power, its production capacity increases 30% and structure is stability.
2. Low comsumption of easy-wear parts.
3. Excellent shaped final products.
4. Lubrication system ensures reliable operation.
5. Over-vibration device is equiped to protect the machine when vibration surpasses a stipulated figure.
6. The adjustable feed hopper guarantees the best quantity of material.
7. Environment friendly.
Liming explores and develops this series mobile crushing station,which is the crushing equipments for rocks or sands and expands the conception of primary and secondary crushing operation. If you want to know more information about production, please contact us by online service!