VSI sand making machine (also named VSI vertical shaft impact crusher) is especially used for providing high-quality sandstone aggregate for expressway, high-speed railway, high-rise buildings, city planning, construction of dam for hydropower plant and concrete mixing plant. It is the first choice in the artificial sand making and the stone shaping fields.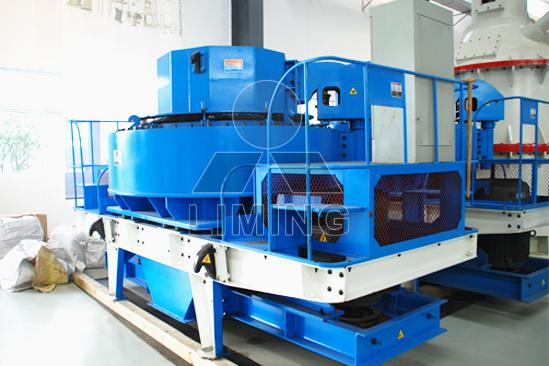 VSI sand making machine Working Principle
VSI Sand Making Machine adopts advanced principle of selective crushing and cleavage fracture crushing; impressing enough kinetic energy to materials; Impacting strength will convert kinetic energy to crushing energy. Materials will break through the natural lamination and physical edge. It has the features of better shape of final products, but less cost. This machine can realize two working principles' conversion with "crushing between materials" and "crushing between materials and liners".
VSI sand making machine Features
1. Advanced double-pump oil lubrication system guarantees the shaft bearing lower temperature increase, longer life time, more reliable operation. It prolongs the maintenance period of the machine.
2. Main shaft is equipped with imported roller bearing. It makes main shaft work stable, and then increase the life of time.
3. Hydraulic lifting mechanism can move away the feed hopper easily, which saves man power during maintenance.
4. Over-vibration indication and warning device is equipped. There will be alarm when vibration surpasses a stipulated figure.
5. Special dust-proof design for main shaft bearing fully avoids dust entering bearing lubrication part, which will make sure the machine work normally.
6. Special feed opening structure makes it possible that center feeding,  center feeding & rring feeding changes easily, in order to meet requirement of crushing and reshaping stones.
VSI Sand Making Machine Application
It is applicable to fine crushing technology at anterior section of grinding in mining field, material crushing in industries such as building material, metallurgy, chemical industry, mine ,refractory materials, cement and grinding, high abrasive and secondary disintegration and crushing, desulfidation of thermal power and metallurgy industry, steel scrap and builders rubbish crushing and other environmental protection project and production of glass, quartz sand and other high-purity material.
VSI Sand Making Machine Technical Data
Model
VSI7611
VSI8518
VSI9526
VSI1140
Capacity (t/h)
Center and Ring feeding
120-180
200-260
300-380
450-520
Center feeding
60-90
100-130
150-190
225-260
Max Feed Size (mm)
Soft material
<35
<40
<45
<50
Hard material
<30
<35
<40
<45
Rotation speed (r/min)
1700-1890
1520-1690
1360-1510
1180-1310
Power for double motor (kW)
110
180
264
400
Overall Dimension
L×W×H (mm)
4100
×2250
×2285
4140
×2280
×2425
4560
×2450
×2780
5100
×2690
×3200
Weight (t)
7.8
10.3
16
25.6
Power Source
380v 50Hz
Vibrating Sensor
Inspect scope: 0.1-20mm/s adjusted continuously
Lubrication hydraulic pressure station
Power for double oil pump
2×0.31kW
Safety
To make sure the supply of the oil with double oil pump; stop working without oil or hydraulic pressure; temperature falls when the water cools; start the motor by heating it in winter.
Overall dimension
LxWxH(mm)
820x520x1270
Power for oil box heater
2 kW