CS Series Cone Crusher is a kind of high efficiency spring cone crusher, which integrate optimization of cavity-type and reasonable stoke and advanced technology, and follows the conception of laminated crushing principle of more crushing and less grinding. It is excellent in manufacturing, installing, applying and maintaining etc.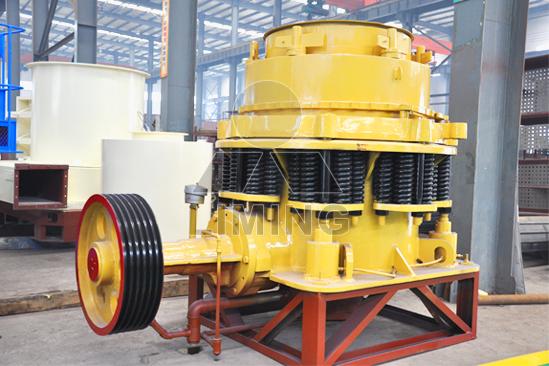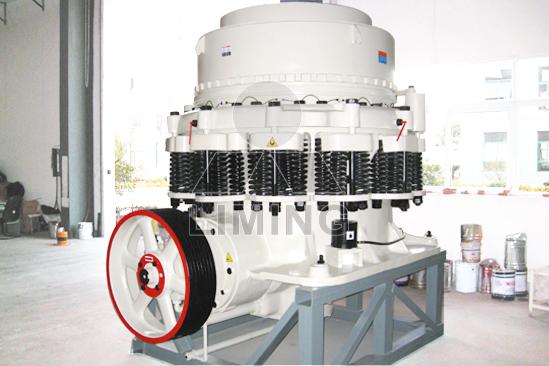 CS Series Cone Crusher Features
High-performance
Good products size composition
Good stability
Convenient Cleaning-up
High reliability
Easy maintenance and operation
Low production costs
Widespread use
CS Series Cone Crusher Structure composition
CS cone crusher mainly consists of frame, fixed-cone assembly, dynamic cone assembly, spring mechanism, bowl type shaft bracket part and drive part etc. its supplementary parts consist of electrical system, thin oil lubrication system and hydraulic cavity-cleaning system.
CS Series Cone Crusher Technical Data
Technical Data:
Standard
Model
Dia. mm (feet)
Cavity
Feed Opening
Power (kw)
Capacity (t/h)
Closing Side (mm)
Open Side (mm)
CSB75
900 (3′)
Fine
83
102
75
45-91
Coarse
159
175
59-163
CSB160
1295 (4 1/4′)
Fine
109
137
185
109-181
Medium
188
210
132-253
Coarse
216
241
172-349
CSB240
1650 (5 1/2′)
Fine
188
209
240
181-327
Medium
213
241
258-417
Coarse
241
268
299-635
CSB315
2134 (7′)
Fine
253
278
315
381-726
Medium
303
334
608-998
Coarse
334
369
789-1270
Short Head
Model
Dia. mm (feet)
Cavity
Feed Opening
Power (kw)
Capacity (t/hour)
Closing Side (mm)
Open Side (mm)
CSD75
914 (3′)
Fine
13
41
75
27-90
Coarse
33
60
27-100
CSD160
1295 (4 1/4′)
Fine
29
64
160
36-163
Medium
54
89
82-163
Coarse
70
105
109-227
CSD240
1676 (5 1/2′)
Fine
35
70
240
90-209
Medium
54
89
136-281
Coarse
98
133
190-336
CSD315
2134 (7′)
Fine
51
105
315
190-408
Medium
95
133
354-508
Coarse
127
178
454-599