Hydraulic cone crusher is developed as high-energy cone crusher by introducing German latest technology. The Hydraulic crusher does not only improve production capacity and crushing efficiency, but also expands application scope: it can provide unequaled crushing performance in each kind of medium crushing, fine crushing and ultra-fine crushing operation from limestone to basalt and from stone production to each kind of ore crushing. As the latest generation product of substituting spring cone crusher and regenerating general hydraulic cone crusher in present mining and construction industry, it is the most ideal equipment for large-sized quarry and crushing of mining industry.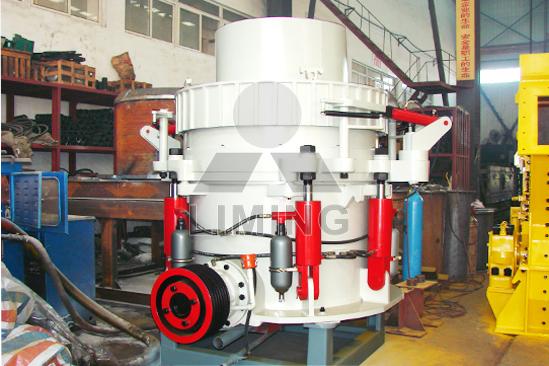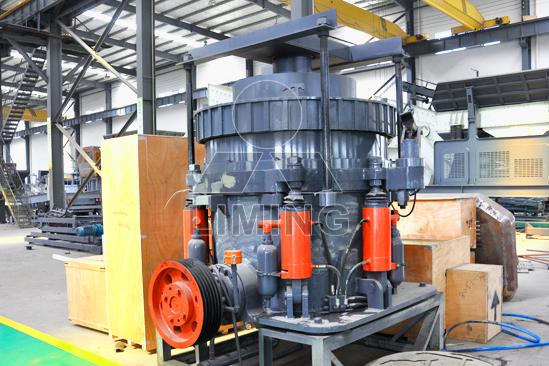 Hydraulic Cone Crusher Main parts
Main parts of Hydraulic Cone Crusher include frame assembly, eccentric sleeve assembly, drive shaft assembly, motor assembly, dynamic cone assembly and fixed-cone assembly etc. Supplementary parts consist of electrical system, lubrication system and hydraulic system etc.
Hydraulic Cone Crusher Features
Having convenient and reliable hydraulic system; able to provide safe and efficient overload protection.
Many kinds of crushing cavities applicable to requirements on granularity for large range of product.
Thin oil lubrication, reliable and advanced, improving service life.
With reasonable structure, advanced crushing principle and technical parameter, reliable operation, low operation cost, high crushing capacity, high production efficiency and high yield etc.
Adopting hydraulic control and hydraulically cleaning cavity setting; greatly improving the degree of automation.
There are many kinds of shapes for crushing cavity with flexible application and strong applicability.
It can provide higher production capacity and better grain shape of products and can be easily and automatically controlled. It has maximal reliability and flexibility, which can create more value for customers.
Hydraulic Cone Crusher Working Principle
The crushing principle of Hydraulic Cone Crusher is finished between fixed cone plate and movable cone plate. The cone crusher's motor drives the horizontal axis of the cone crusher through triangle belt and pulley, the horizontal axis drive the eccentric shaft bush to rotate through gear transmission. The eccentric shaft drives the main shaft to make the movable cone plate swing at a regulated track from time to time, the materials are crushed due to constant pressed and crooked in the crushing cavity. The finished products are discharged from the discharging open.
Hydraulic Cone Crusher Technical Data
Type
Cavity (coarse
/fine)
Outlet adjustment range (mm)
Feed size (mm)
Capacity (t/h)
Power (kW)
Weight (t)
movable cone diameter (mm)
HPC-160
C
12-20
135
120-240
160
13
950
F
5-20
76
55-180
HPC-220
C
15-38
185
150-430
220
18.5
1160
F
6-25
110
90-260
HPC-315
C
19-45
265
190-610
315
26
1400
F
9-30
150
108-320
HPC-400
C
25-50
320
230-700
400
33
1500