HGM Micro Powder Mill (Three-ring & Medium-speed micro-powder mil)l is designed basing on our 20 years' manufacturing experience, absorbing the Swedish advanced machine manufacturing techniques. It is a new type of mill for making super fine powder through more than 20 times of test and improvement. It is the latest type of product of micro-powder mill that leads the world tide.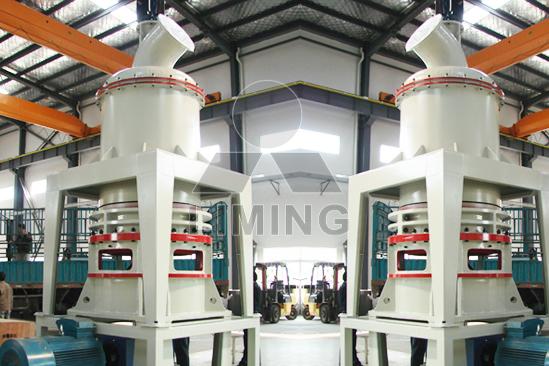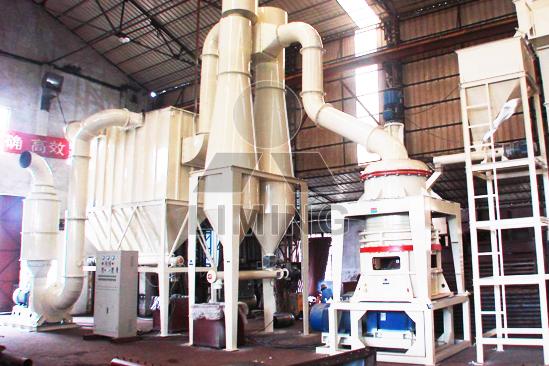 HGM Micro Powder Mill Features
(1) Low investment cost. With the same products' fineness and generator power, it has low investment cost, short return period and twice more output compared with the airflow mill, stirring mill or ball mill.
(2) High powder output. With the same fineness and power consumption, its powder output is more than the airflow mill or stirring mill by 45%.
(3) Low wear and long service time of wear parts. All the wear parts are made of national anti-friction material. Their service life is longer than that of the wear parts of ordinary mill equipment. Generally, they can be used for more than one year.
(4) High security and reliability. The operation which is inside of the grinding chamber is safe and reliable. Compared with an ordinary mill, there is not rolling axletree or screws, so there is no problem of wear of the axletree and other sealed parts, and it avoids the problem that the machine is damaged due to loosen screws.
(5) High fineness of finished product. The final fineness can reach d97≤5μm through one-time processing.
(6) Environmental protection. It adopts an efficiency pulse dust collector, so there is no dust pollution in the complete operation process. In addition, it is equipped with a muffler and sound proofing room so that the pollution and noise can be reduced in accordance with the environment-protection standard, and surrounding environment is protected.
HGM Micro Powder Mill Working Principle
The motor drives the main shaft and every turnplate through the reducer. The reducer drives dozens of rollers to rotate against race way of ring through pin. Small material crushed by hammer crusher is transported into hopper by elevator, and then vibrating feeder shall feed material to the central part of upper turnplate evenly. The material falls to circle under the centrifugal force and comes down to raceway of ring to be crushed into powder. After grinded in the first race way, the material goes to the second and third turnplate. The blower inhales the external air into the mill and carries the powder after third turnplate into powder-separator. Turbine in the separator makes the coarse powder drop down and regrinded and the fine powder shall go into cyclone powder collector together with air current and go down through discharge valve as final product; at the same time, air current with a little dust goes out through blower and muffler after purified by filter.
HGM Micro Powder Mill Application
HGM Micro Powder Mill is designed to get fine and super fine powder. It is mainly used to process more than 200 kinds of non-inflammable, non-explosive and brittle materials with Moh's hardness below 6 scale, such as calcite, chalk, limestone, dolomite, kaolin, bentonite, talc, mica, magnesite, illite, pyrophyllite, vermiculite, sepiolite, attapulgite, tablite, ceyssatite, barite, gypsum, alunite, black lead, fluorite, phosphate rock, potassium ore, floatstone etc. When HGM mills are used to process materials with Moh's hardness between 4-6 scale, the service lifetime of easy-worn parts shall be shortened as it relies on the hardness of raw material.
HGM Micro Powder Mill Technical Data
TABLE 1
| | | |
| --- | --- | --- |
| Model | HGM80 | HGM100 |
| Roller number | 21 | 27 |
| Ring Diameter (mm) | Φ800 | Φ1000 |
| Ring number | 1×3 | 1×3 |
| Main unit speed(mm) | 180-250 | 150-200 |
| Max. feeding size(mm) | 10 | 10 |
| Final size (mesh) | 325-2500 | 325-2500 |
| Capacity (kg/h) | 400-4500 | 900-6500 |
| Overall dimension (m) | 13.5×4×6.5 | 18×4.5×8.6 |
TABLE 2
Name
Item
Unit
Specifications &
Technical Data
HGM80
HGM100
Motor for
main frame
Model
Y2-250M-4
Y2-315M-6
Power
kW
55
110
Motor for separator
Model
Y2-180M-4
Y2-200M-4
Power
kW
18.5
30
Motor for Elevator
Model
Y100L-4
Y112M-4
Power
kW
3
3
Motor for
Blower
Model
Y2-255M-2
Y2-280M-2
Power
kW
45
75
Motor for Hammer Crusher
Model
PC400x300
PC600x400
 Power
  Kw
11
18.5
Motor of Vibrating
Feeder
Model
GZ1F
GZ1F
Power
Kw
0.06
0.06
Motor of discharge
valve
Model
ZJD200
ZJD200
Power
Kw
0.75
0.75
Impulse
bag filter
Model
DMC120
DMC184
Power
7.5