European Type Jaw Crusher Introduction
By adopting the world's most advanced crushing and manufacturing technology, European type jaw crusher is mainly used for secondary and tertiary crushing of various medium-hard ores and rocks etc in industrial departments such as metallurgy, mining, chemical industry, cement, construction, refractory material and ceramic and is most applicable to crushing ores, rocks and slag etc. with compressive strength not more than 280MPa. It is an efficient product which is the first choice for crushing high hard and strong abrasive material and is the advanced equipment developed aiming at stone crushing in highway, road, railway, airport runway etc.
European Type Jaw Crusher Performance Features
Compared with traditional secondary jaw crusher, European jaw crusher can display its incomparable advantages in service life, maintenance rate and failure rate; the cost is low compared with the cooperated application of cone crusher and stone shaping machine. Features of European type jaw crusher are as follows: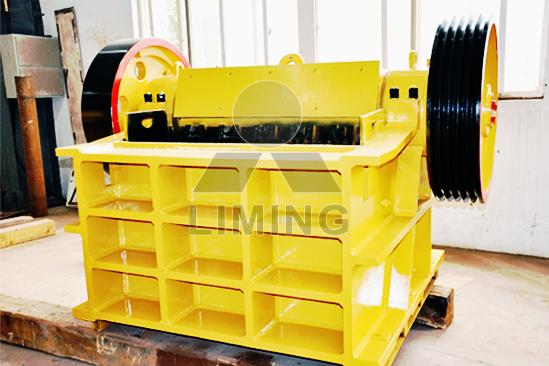 1. Adopt world-level manufacturing techniques and raw materials
2. Movable jaw assembly is made of high-quality cast steel piece. Forging blank is adopted for heavy eccentric shaft for processing, which makes the machine more reliable and endurable.
3. Integral cast steel structure is adopted for bearing saddle to guarantee full cooperation with crushing stander, which greatly enhances radial strength of bearing saddle.
4.Adoption of finite element analysis technology ensures much higher strength of the machine.
5.Crusher chamber adopts "V" structure which could make the actual feed width complies with the nominal one.
6.Adjustment device with discharge hole with wedge installed is simpler, safer and rapider than the old spacing piece.
7.Compared with crusher of other specifications, all machines of the series adopt more endurable and bigger eccentric shaft bearing; its higher bearing capacity and effective labyrinth seal make service life of bearing greatly prolonged.
8.The latest tooth-shaped guard plate is adopted to increase effective length of jaw plate and improve output.
European Type Jaw Crusher Technical Data
| | | | | | | |
| --- | --- | --- | --- | --- | --- | --- |
| Model | Max. Feeding Size (mm) | Adjustable Discharge opening (mm) | Capacity (t/h) | Motor Power (kW) | Overall Dimensions (mm) | Weight (t) |
| PEW200×1300 | 150 | 10-30 | 12-35 | 30 | 1320X2150X1175 | 6 |
| PEW250x1000 | 220 | 20-40 | 15-50 | 30 | 1400x1850x1310 | 5.6 |
| PEW250x1200 | 220 | 20-40 | 20-50 | 37 | 1450x2150x1175 | 6 |
| PEW400x600 | 350 | 35-85 | 15-70 | 37 | 1920x1460x1840 | 6.5 |
| PEW860 | 720 | 100-225 | 200-500 | 132 | 3300x2320x3120 | 32 |
| PEW1100 | 940 | 150-275 | 300-650 | 185 | 4140x2660x3560 | 59.2 |