With large scale projected growth in infrastructure projects, the demand is well expected to go up for mobile crushing plants. However, the demand of mobile crushing plants is expected to come mostly from increasing iron ore mining activities as demand from primary and secondary  crushing plants will go up according to expansion plans.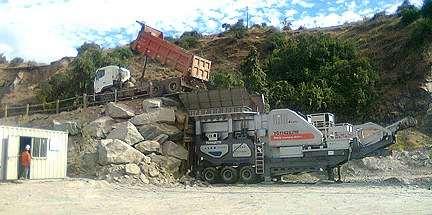 There is a definite shift in demand above 100 TPH categories as project schedules are increasingly becoming compressed. This is much precisely for road and hydro power projects. Demand trend is towards 120-150 TPH and 225-250 TPH two stages and three stage mobile crushing plants. This comprises jaw-cone-vertical shaft impactors.
There is a demand being created for Mobile crushers of higher capacity belonging to the range of 300-350 TPH. However, perceive wheel crushers at the capacity of 300-350TPH is not viable from the technical point of view. This is so because being machines rotating at high RPM, there are high dynamic loads at play during operation of the machine leading to vibrations that increases the cost per tone due to wear & tear. There are also issues of maintenance of the entire structure pertaing to the mobile crushing plants.