Jaw crusher is used in stone mining, metallurgy industry, building material, highway, railway, and chemical industry. Suitable for crushing maximum, medium and minimum stones, it is primarily used to crush different types of mining stone and the largest compression resistance of the material to be crushed is 360 MPa. Jaw crusher is a trusted and reliable brand for its high quality and good manufacturing.
working mechanism and animation of jaw crusher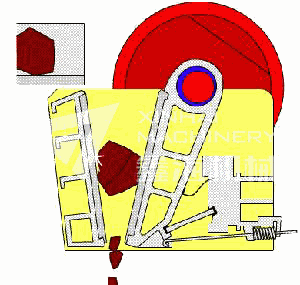 The material falls into the crushing chamber, the movable jaw plate moves gradually to the fixed jaw plate, thus material is squeezed into several small pieces. Due to gravity, the crushed material will fall, and those small enough will be discharged by the crusher. And the bigger sizes will fall to the bottom of jaw crusher chamber, and will be crushed again with newly fed raw materials.