The first cone crusher with patent in the world is promulgated in 1878, but it is put into use in 1898. In the end of 19th century,U.S. began to put the cone crusher into use. The spring cone crusher is designed by Milwaukee CS brothers, so it is also called CS cone crusher. This machine has a history of more than 100 years, although the spring cone crusher is continuously redesigned and renewed, but the basic structure is the same. In 1954, we imitated with theSoviet Union's 2100 and 1650 type spring cone crusher and designed 1200 spring cone crusher by ourselves. In 1958, our country designed 2200 spring cone crusher. After several years' research and practice, the problem of under pressure of spring is solved. Now we have manufactured 600, 900, 1200, 1750, 2200 type spring cone crusher with 14 cavities in quantity production.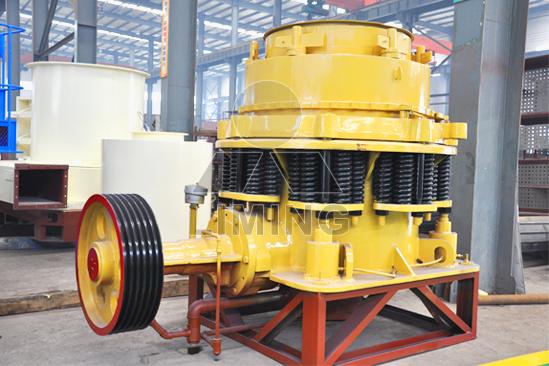 Compared with some high-developed countries, the national spring cone crusher has its gap in quality and performance. In order to catch up with the world high level of developed countries, some heavy industry plants import the technology of CS and Gyradisc cone crusher from U.S. Nodeberger Company and cooperate to design this series cone crusher. The cone crusher's new standard has the similar basic parameter with the CS cone crusher. So the newly production of spring cone crusher will replace the old CS Crusher.
The cone crusher researched & developed and manufactured by Liming Heavy Industry imports and absorbs the technology of foreign countries, and according to the requirement and the basic lamination crushing theory and the concept of more crushing with less grinding, manufactures the modern high technology and performance spring cone crusher combined with excellent performance, reliable quality and high cost performance. Practice proves that CS Cone Crusher has the characteristic of excellent performance, reliable quality and high cost performance with the trust of global customers, which is the ideal replacement of the traditional spring cone crusher.