Gold ore operations consist of three major steps: extraction,beneficiation, and processing. Extraction is analogous to mining and is defined as removing ore material from a deposit. Four main techniques are used in the beneficiation of gold ore: cyanidation, flotation, amalgamation, and gravity concentration.

Flow chart of gold ore beneficiation processing plant
1. Comminution is the breaking up of ore to make gold available for treatment. Crushing and grinding is the first step to process gold ore down to a smaller size so that the gold can be melted evenly.
2. Gold ores are typically classified into:refractory ores, where the gold is locked within a sulphide mineral and not readily available for recovery by the cyanidation process; or free milling, where the gold is readily available for recovery by the cyanidation process.
3. Refractory ore treatment – after fine grinding, the sulphide materials are floated away from the barren gangue material to produce a high-grade sulphide concentrate.
4. Free milling and oxidised refractory ores are processed for gold recovery by agitator leaching the ore in an alkaline cyanide leach solution followed generally by adsorption of the gold cyanide complex onto activated carbon-in-pulp (CIP).
5. The alternative process is the heap-leach process.
Jaw Crusher+Cone Crusher+Ball Mill+Magnetic Separator+Flotation Machine+Ore Washing Machine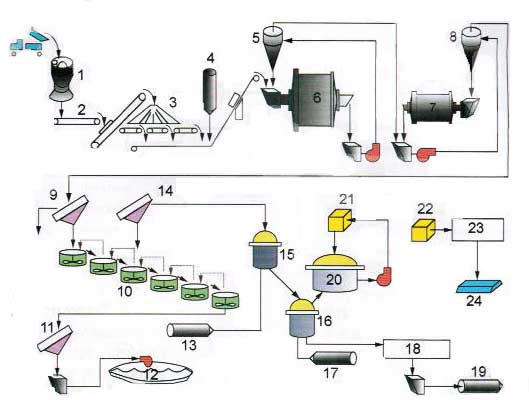 | | | | | | |
| --- | --- | --- | --- | --- | --- |
| NO. | Equipment | NO. | Equipment | NO. | Equipment |
| 1 | Jaw crusher | 2 | Conveyer | 3 | Stockpile |
| 4 | Lime feed system | 5 | Primary cyclones | 6 | SAG mill |
| 7 | Ball Mill | 8 | Secondary cyclone | 9 | Trash screen |
| 10 | Leach and CIL tanks | 11 | Carbon safety screen | 12 | Tailings dam |
| 13 | Hydrochloric acid | 14 | Loaded-carbon recovery screen | 15 | Acid wash and water rinse tank |
| 16 | Stripping column | 17 | Sodium cyanide | 18 | Carbon regeneration kiln |
| 19 | Stripped carbon | 20 | Eluate tank | 21 | Electrowining cells |
| 22 | Electrorefining cells | 23 | Remelt furnace | 24 | Dore bullion bar |