Mobile Crushing Plant can be divided into Track type mobile crusher and Wheel type mobile crusher according to the types, they can be divided into jaw crusher plant, impact crusher plant, cone crusher plant. Proper mobile crusher plant is selected own to the different granularity of finished product & output.
The following is the flow diagram for Mobile Crushing Plant: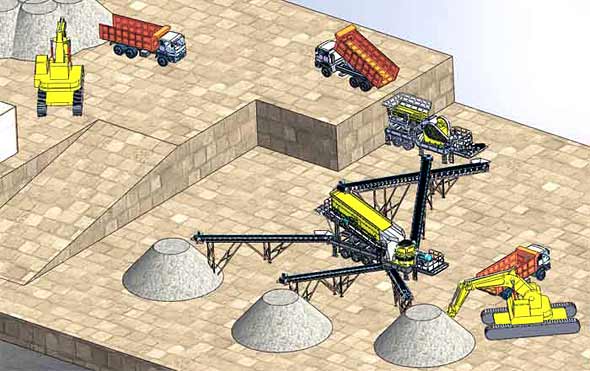 Raw materials are transported to the mobile jaw crusher machine by vibrating feeder. After materials are crushed initially by mobile jaw crusher, it forms a closed circuit system by circular vibrating screen, to achieve the cycle of material crushing. The materials that meeting the size requirements are outputted by belt conveyor, the others would be returned to mobile crusher machine to crush again. According to actual production need, mobile Jaw Crusher can be removed circular vibrating screen, to directly crush materials, and then make specific operation combined with other crushing equipments. It is convenient and flexible.
For more information, please contact us and tell us your needs, we will help you choose suitable mobile crushers according to your needs.