Rock crushers, also called non-metallic mineral processing plants. Knowing the number of crushing stages we can now start to select the correct crusher for each reduction stage. Depending on operating conditions, feed size, capacity, hardness etc, there are always some options.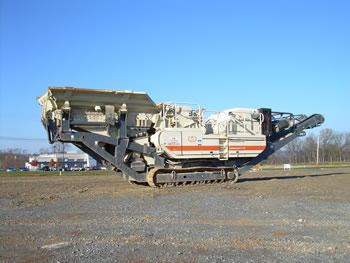 Primary crusher type
For soft feed (below Mohs5) a horizontal Impactor (HSI) is normally the first option if capacity is not too high. For harder feed there is a choice between a gyratory or a jaw crusher.
Secondary crusher type
In a rock crushing circuit, the second stage normally starts to be of importance for control of size and shape. Because of this the jaw crusher, in most cases, is disqualified as secondary crusher. Instead the cone crusher is used more frequently.
Also in comminution (crushing and grinding) circuits for ore and minerals the cone crusher is frequently used as the secondary stage. Using a secondary HSI means as always a restriction in feed hardness.
Final crushing stage – more than just crushing
For many rock and gravel crushing circuits the final crushing stage is of special interest. The final sizing and shaping will take place in this stage influencing the value of the final product. For hard rock circuits there are only two options, cone crushers or Vertical Shaft Impactors (VSI).