Iron ore beneficiation is a complex process, it aims to remove the unwanted impurity materials or gangues, improve the iron ore grade and refine the concentrate for final applications. This process involves various types of iron ore beneficiation plant and technology, including milling (crushing and grinding); washing; filtration; sorting; sizing; gravity concentration; magnetic separation; flotation; and agglomeration (pelletizing, sintering, briquetting, or nodulizing) etc.
iron ore beneficiation plant design and process flow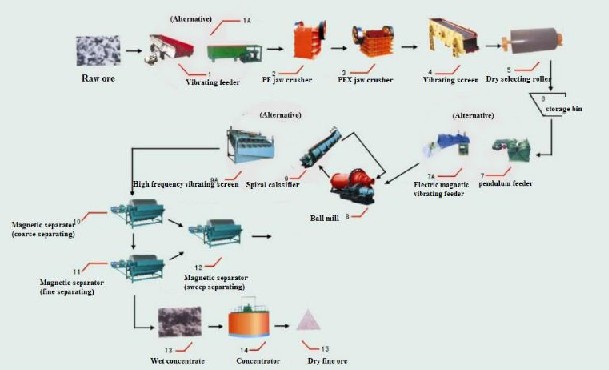 Raw iron ore is exploded from the iron ore mines firstly. Then vibrating feeder will feed iron ores into the iron ore primary crusher crushing cavity, in which large size raw iron ore will be resized into iron ore sand. The iron ore sand is transmitted into secondary crushers by belt conveyors evenly and continuously. Then the out let of secondary crusher is carried into tertiary crusher, in which iron ore will be processed into powder size iron ore particles. Iron ore crushing process ended here.
When coarse iron ore powder fed into iron ore grinding mill, the iron ore grinding process starts. Our grinding production line processes iron ore into mm to μm degree powder which is quite fit for the next beneficiation process.
After sintering with high temperature, iron pellet ore will be calcined in the blast furnace and finally processed into iron streel.
iron ore beneficiation plant equipments manufacture
Liming is specializing in the production of mining machinery and equipment manufacturers, our company not only provide iron ore processing equipment and iron ore beneficiation flowsheet, and also produces some of the sand making machine, milling machine.they can be used for the beneficiation of various minerals, such as silver, tungsten ore, tin, lead, molybdenum, copper, and so on. If you need to know more information, please contact us!