In the past few days, We successfully sales a Y2S1848GL crawler mobile crusher to Australia market. It is said that this equipment is mainly used into the mining of big open cut coal mine. Y2S1848 crawler mobile crusher is equipped with one 1848 vibrating screen which has two layers for separating material into two different grains. What's more, this crawler mobile crusher is equipped with many conveyors, which transport the material after screening to one square area.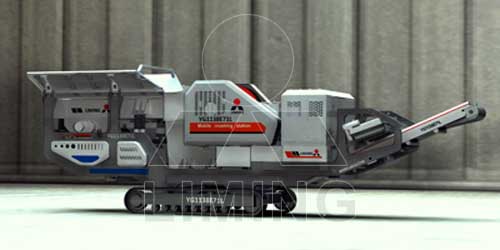 This Y2S1848GL type crawler mobile crusher is another successful case for Liming Heavy Industry entering into Australia market. Because of its flexible driving, it has the advantage when it is applied to the open cut coal mine. The crawler mobile crusher can move freely at the mining site and transports the material onto the mobile crusher, of which is used for screening the material to achieve the standard fabric coal. If necessary, a crusher can also be equipped on the mobile crusher plant, such as jaw crusher, cone crusher, etc. This is the advantage of mobile crusher plant: wherever the equipment needs, the equipment is equipped, with flexible and fitting for different site's necessary.
We are the leading enterprise in China. Our company takes the sprit of technology is first and continuously increases the product's performance. The mobile crusher plant belongs to the high-end device with the manufacturing of actual strength's enterprise, of which Liming Heavy Industry is one of them. Congratulations on the successful entering into Australia market of our crawler mobile crusher!