Mobile crusher plant enters into the Philippines market successfully.Mobile crusher machine is also called mobile crusher plant, which can crush the aggregated rock with mobility. It can be recognized as an easy aggregated rock production line, which is widely used in railway, highway, building, water conservancy, metallurgy, etc. To meet the different requirement of the kinds of raw material to process and the standard and material of finished product, especially the small area for crushing, mobile crusher plant is more suitable for the disposal and crushing of construction garbage.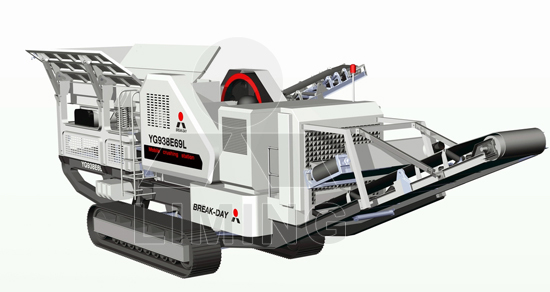 There are coarse crushing, medium crushing and fine crushing of mobile crusher plant. At the standpoint of customers, Liming mobile crusher plant takes the eliminating broken site and the less environmental pollution as the first solve solution to offer project operation hardware facilities of high efficiency and low cost, which can boost the concept of crushing.
Mobile crusher plant has significant performance with high required technology. Liming chief engineer Bai Yinghui devoted his team to the research and development of mobile crusher plant with the technological drawing, material selecting, product equipment, etc, which is of high quality. Mobile crusher plant is the first production according to the international market situation for construction garbage crushing. What's more, the flexible combination makes customers select different installation according to the practical situation. Mobile crusher plant can form the style of screening after crushing, crushing after screening or exclusive use. According to the practical required situation, mobile crusher can mix with coarse and fine crushing system or coarse, medium and fine crushing system or use alone of high flexibility.
The first product in the market is the coarse crushing mobile crusher plant with the jaw crusher as its main equipment, which is of high technology and quality. Each equipment is formed by 25 basic modules, all of which has variety selective parts to meet the customers' special need. Coarse mobile crusher plant is used in the crushing and recycling of rock, ore, bulk-like bituminous concrete of road, cement concrete material which has been removed, etc.
Liming mobile crusher is starting to set out to Philippines. Mobile crusher is Liming's newest crushing plant production combined with vibrating feeder, high pressure PE European jaw crusher, cone crusher, vibrating screening, belt conveyor, electric motor, control cabinet, etc., which leads a leading position.
It is the first time for Liming mobile crusher plant to enter the market of Philippines with the assurance of the quality and reputation of Liming, which is also of great significance of entering the middle east later. Liming mobile crusher plant, which has been put into market for one year, achieves a better influence in the crushing machinery market.