Multistage mobile crusher is applied to multistage crush large materials, and then screen the discharges according to their different specifications. The whole set of mobile crushing plants is widely used in coal, aggregate, sand, construction and demolition (C&D) waste, mine ore, blasted rock and river gravel annually.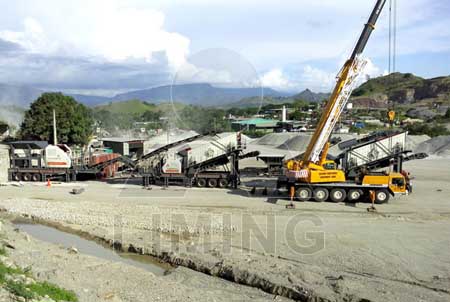 Multistage mobile crusher plant is combined with the high-performance jaw crusher, impact crusher, cone crusher, vibrating screen, vibrating feeder and belt conveyer which are integrated with the crusher, as well as integrated vehicle-mounted motor and electrical control cabinet.Mobile Crushing Line is ideal for primary, secondary and tertiary crushing and screening applications in  mining, quarry, highway, recycling, , urban construction, metallurgy, energy, etc.
Liming is professional and leading mobile crusher manufacture in the world, our products all adopt advanced national manufacturing technology, and have excellent performance in the crushing and screening filed. Our mobile crusher include wheeled type and tracked type. Know more information, please feel free to contact us, our sales manager will reply to you soon!