Capacity:100ton-650ton
Primary crushing:Jaw crusher PE Series
Secondary crushing: PF Impact Crusher
Screening: Vibrating screen
Third crushing: HCS Cone Crushers
Grinding:Ball mill
Classifying:Sprial classifier or High frequency vibrating screen
Ore separating:Flotation machine/ Magnetic seperator/ Shaking table
Concentrating: Concentrator
Drying: Rotary dryer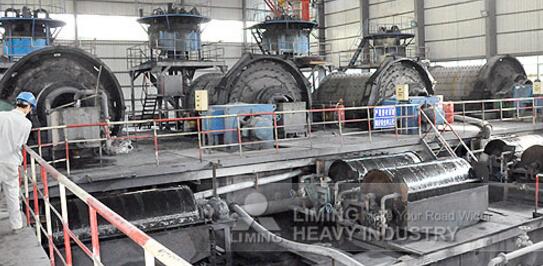 The raw Magnetite iron ore should be crushed by jaw crusher initially. When it gets the reasonable fineness, it is transported into vibrating screen through conveyer and feeder.
The screened ore gets the next procedure: jigging separation. The screened ore gets into chrome jig separator for gravity separation.
Chrome ore in South Africa is beneficiated by crushing–screening–washing–selection or heavy medium separation for block granularity enrichment. Flow sheet of medium separation–jigging–milling–sprial beneficiation–intensity magnetic separation has been adopted in Soviet Union Kazak Pierre mine beneficiation factory while in Defence beneficiation factory in Oregan American, flow sheet of shaking table–ore washing–dry normal magnetic separation–intensity magnetic separation–floatation separation is used to separate sea chrome sand.