With a lot of mineral resources exploitation, the available resources dropped sharply, so that resulting in ore mining quality dwindling. However, smelting mineral product quality requirements are increasing, and people's environmental awareness has also been strengthened. For many reasons, it makes that customer processing equipment is increasingly high requirements and standards. It promotes ore beneficiation plant equipment manufacturers to seek a new way, developing to the large, intelligent, automated direction.
Classification of ore beneficiation plant equipments
Main equipments
crusher
screener
grinder
classifier
flotation machine
jigger
shaker
magnetic separator
concentrator
filter
dehydrator
Auxiliary equipment
conveyor belt
slush pump
feeder
lifting equipment
feed bin storehouse
Flow diagram of ore beneficiation plant equipments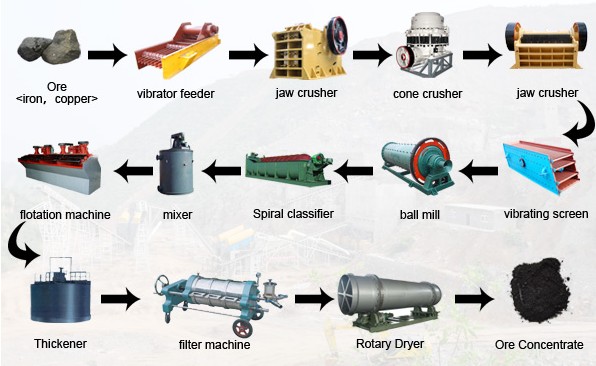 Selection principles of ore beneficiation plant equipments
1. The main equipment should be have advanced technology, stable and reliable operation, mature production practices, high efficiency, energy saving and environmental protection.
2. According to production scale , try to choose the large-scale ore beneficiation equipment, in order to reduce the number of devices, saving floor space, lower investment and operating costs and improve labor productivity.
3. According to the physical and chemical properties, particle size, water, mud and other factors of the ore,  choose the suitable equipments.
4. The auxiliary equipment must be matched with the main equipment, he same job should be the same type of device specifications.
5. In order to ensure that the operating rate of main equipment, associated equipment shall be in accordance with the actual need to give a certain amount of spare parts.