The fundamental need of the market for mobile crushers is to replace stationary stone-crushing plants with mobile crushers. In recent years , mobile crushers have been increasingly employed in the field of environmental recycling that recycles debris from demolished concrete structures as aggregates.

Concrete debris which are put into the mobile crusher are crushed into small pieces as they are repeatedly hit to impact plates by blow bars set on a rotor which rotates at a
highspeed. Compared with compression-type crushers, such as the jaw crusher, the impact crusher produces pieces which are mostly rotundate in shape and is used as a secondary crusher or granulator. Since the impact crusher is 1.5 to 2 times higher in crushing ratio than the jaw crusher, it is suitable to produce aggregates of comparatively small particle
size. The mobile crusher is equipped with a feeder and a conveyor appropriate to the crusher width to allow for efficient crushing work.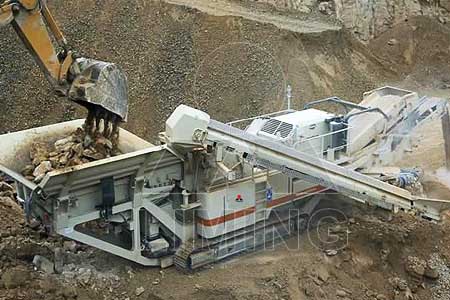 Features of new mobile crusher
High processing capacity
Securing good transportability
Simple operation
Good maintainability