PE Series Jaw Crusher is the newest primary and secondary crusher which most widely used in primary  and secondary crushing. It absorbs first-class technology from foreign, and develops the technology in the further. It is widely used in primary crushing of building material, metallurgy, mining, railway, chemical industries and water conservancy etc. Almost all of the mineral ore are able to crush, such as coal, limestone, cement, dolomite, quartz, feldspar, fluorite, gypsum, granite, calcite etc.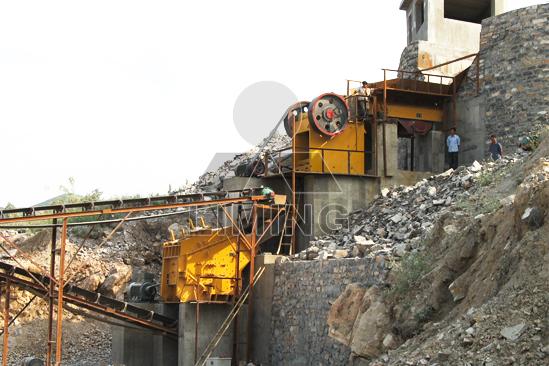 Primary and secondary jaw crusher working principle
The strip and strip pulley are driven by a motor, and the moving jaw moves up and down via eccentric shaft. The angle between fixed jaw and moving jaw becomes smaller when the moving jaw runs down, then the materials are crushed into pieces. It will become bigger when the moving jaw runs up. The moving jaw board leaves the fixed jaw board under the action of pole and spring, and then the end products come out from the crushing cavity. And also, Jaw crusher is always used as the primary and secondary crusher.
Primary and secondary jaw crusher technical parameters
| | | | | | |
| --- | --- | --- | --- | --- | --- |
| Model | Max. Feeding Size (mm) | Discharge Size (mm) | Capacity (t/h) | Motor Power (kW) | Weight (t) |
| PE250×400 | 200 | 20-60 | 5-20 | 15 | 2.8 |
| PE400×600 | 350 | 40-100 | 15-60 | 30 | 6.5 |
| PE500×750 | 425 | 50-100 | 50-100 | 55 | 10.3 |
| PE600×900 | 480 | 65-160 | 60-130 | 75 | 16.5 |
| PE750×1060 | 630 | 80-140 | 100-250 | 110 | 29 |
| PE900×1200 | 750 | 95-165 | 160-380 | 110 | 54.5 |
| PE1000×1200 | 850 | 195-265 | 315-550 | 110 | 57 |
| PE1200×1500 | 1020 | 150-300 | 300-800 | 160-220 | 100.9 |
| PEX250×750 | 210 | 25-60 | 10-40 | 22 | 5 |
| PEX250×1000 | 210 | 25-60 | 15-50 | 30 | 6.5 |
| PEX250×1200 | 210 | 25-60 | 20-60 | 37 | 7.7 |