In quarry mining operations, the layout of crushing plants and ancillary equipment and structures is a crucial factor in meeting production requirements while keeping capital and operational costs to a minimum. There are three main steps in designing a good crushing plant: process design, equipment selection, and layout. The first two are dictated by production requirements and design parameters, but the layout can reflect the input, preferences and operational experience of a number of parties.
Quarry crushing plant design parameters
The principal design parameters that drive crushing plant selection and configuration include:
• Production requirements         • Capital cost
• Ore characteristics                    • Safety and environment
• Project location                          • Life of mine/expansion plans
• Operational considerations      • Maintenance requirements
• Climatic conditions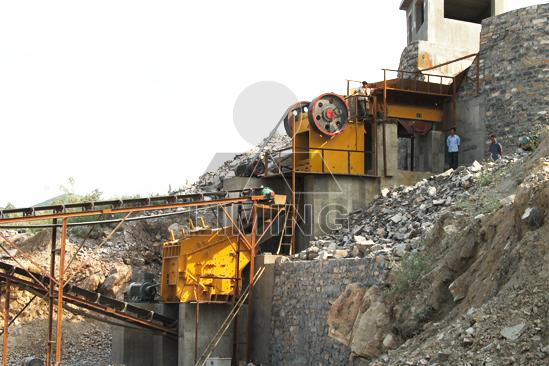 Quarry crushing plant layout 
A well-designed plant layout balances the capital versus operating cost over mine life. Buildings, infrastructure, and major equipment items, represent the major cost elements of a crushing plant. The designer must prepare a layout that suits the design criteria, flowsheet and selected equipment in the most economical possible configuration. It's important to keep structural costs down, to design for ease of maintenance and operation, and to combine best practices with advances in fabrication and erection. Input from an experienced mining plant structural engineer can be very helpful.
Primary crushers, no matter what type, must all meet the design parameters described earlier. Design details that are fundamental to the layout of gyratory crusher plants are listed in the sections that follow. Some of these details are applicable to other types of crushers as well.
Fine crushing(Secondary, Tertiary and Quaternary) circuits can be more challenging to design than primary crusher installations. There are more equipment options, and each has different installation and maintenance requirements. The process flowsheet dictates the expected performance of the items in the flow stream. The designer must configure the equipment and structures into a balanced, economical plant design. Screens, feeders, stockpiles, bins, conveyors and crushers must all be interfaced with the most economical supporting structures and buildings.