Tracked Cone Crusher for sale in Mexico:
Tracked Cone Crusher Application
The Tracked Cone Crusher is applied to multistage crush large materials, and then screen the discharges according to their different specifications. The whole set plants is widely used to mine, building material, highway, rail way and hydropower industries, etc., finish crushing and screening operations at one time, produce required size and output for consumers.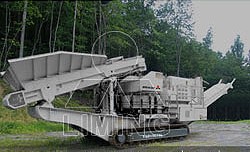 Tracked Cone Crusher Features and Benefits
The Tracked Cone Crusher (plants) has the advantage of reasonable matching, unobstructed discharge all line, reliable working, convenient operation, high efficiency and saving energy. Especially the mobility is very good, so it can extend with the raw material places or the construction place, and it can also make multiple matching, get to different product requirements.
Tracked Cone Crusher Technical Data:
| | | | |
| --- | --- | --- | --- |
| Cone Crusher | CS75 | CS160 | HP220 |
| Vibrating Feeder | GLD1500/4 | GLD1500/5 | GLD1500/5 |
| Up Hopper Volume (M3) | 4 | 5 | 5 |
| Feeding Height (mm) | 2700 | 2900 | 2900 |
| Main Belt Width (mm) | 800 | 1000 | 1000 |
| Main Belt Discharge Height (mm) | 2700 | 2800 | 2800 |
| Power (KW) | 150KW | 300KW | 400KW |
| Transportation Length (mm) | 12000 | 12500 | 12500 |
| Transportation Width (mm) | 3050 | 3050 | 3050 |
| Transportation Height (mm) | 3700 | 3900 | 3900 |
| Transportation Weight (T) | 38 | 45 | 50 |