Vibrating feeder is widely used in the crushing and screening plants in mining, metallurgical,building material, silicate and chemical industries. In the sand stone production line, vibrating feeder can send materials to crusher evenly and continuously. At the same time, it can screen materials roughly.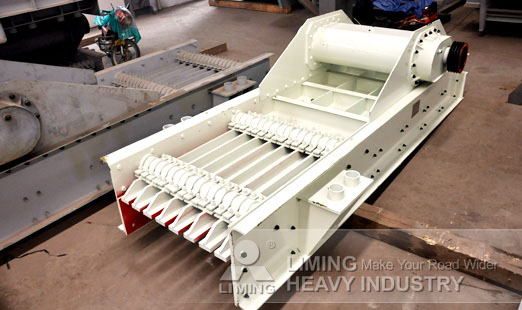 Structure design of vibrating feeder
The vibrating feeder consists of vibrating frame, spring, vibrator, motor vibrating device and motor. The vibrator is made of two fixed eccentric shafts whose gears are jogged. When installing, the two gears must be jogged according to the sign. Through drive of the motor, the two eccentric shafts start rotating to produce linear huge power which forces the feeder to vibrate.Through the vibration, the materials will slip and sling on the funnel, moving forward, when the materials pass the screening part, smaller parts will fall down, and avoid further crushing, and so screening purpose can be reached.
Technical specifications of vibrating feeder
| | | | | | | |
| --- | --- | --- | --- | --- | --- | --- |
| Model | Feed chute size (mm) | Max. feeding size (mm) | Handling capacity (t/h) | Power (Kw) | Overall dimension (mm) | Weight (including motor) (kgs) |
| GZD-960×3800 | 960×3800 | 500 | 90-160 | 11 | 3880 ×2240 ×1880 | 3980 |
| GZD-1100×4200 | 1100×4200 | 580 | 120-240 | 15 | 4300 ×2450 ×2010 | 4170 |
| GZD-1300×4900 | 1300×4900 | 650 | 150-400 | 22 | 4980 ×2705 ×2050 | 5200 |
| GZD-1500×6000 | 1500×6000 | 800 | 460-575 | 30 | 6160 x2920 x2295 | 9000 |